goals4kids
Education is the most powerful weapon which you can use to change the world
Nelson Mandela
Opening up perspectives to children – supporting their education and training! This principle and the statement by Nelson Mandela forms our backdrop to set up the goals4kids association, which aims at supporting the education and training of children from socially disadvantaged families in Germany and South Africa.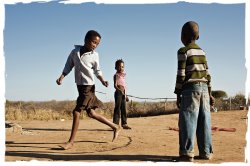 Only well-funded education and training can enable future generations to solve problems of their individual countries and to safeguard their future. We believe that children should receive the necessary tools to build up or strengthen their countries.
A good school education is only one step in that direction –activities like sports, culture, arts or others are needed to help children out of the social isolation and lead them on to new pathways.
Team spirit, self-esteem, and commitment are just some examples of what these activities could trigger. A decisive factor for a positive change could be, for example, a well-kept soccer field or the opportunity to learn to play a musical instrument.